WHAT IS THE BEEHIVE?
The Beehive is a touring public art installation created for SHEDx that champions community cohesion and celebrates individuals, offering them a supportive space to exhibit their skill sets and methods of self-expression.
Built from UK chestnut and Build with Hubs joints, the 4m x 3m handmade geodesic frame is covered in carefully appliqued recycled gazebo fabric. Inside is a honey-coloured den of donated textiles, materials created during community workshops and bees made by local artists.
The Beehive is on tour around Tolworth and surrounding boroughs between November 2019 and March 2020 offering a wide range of activities for the general public. Event details will be listed here very shortly. If you are part of a community focused space that would like to host The Beehive, or are a creative wanting to run an event, please email hello@debbiechessell.com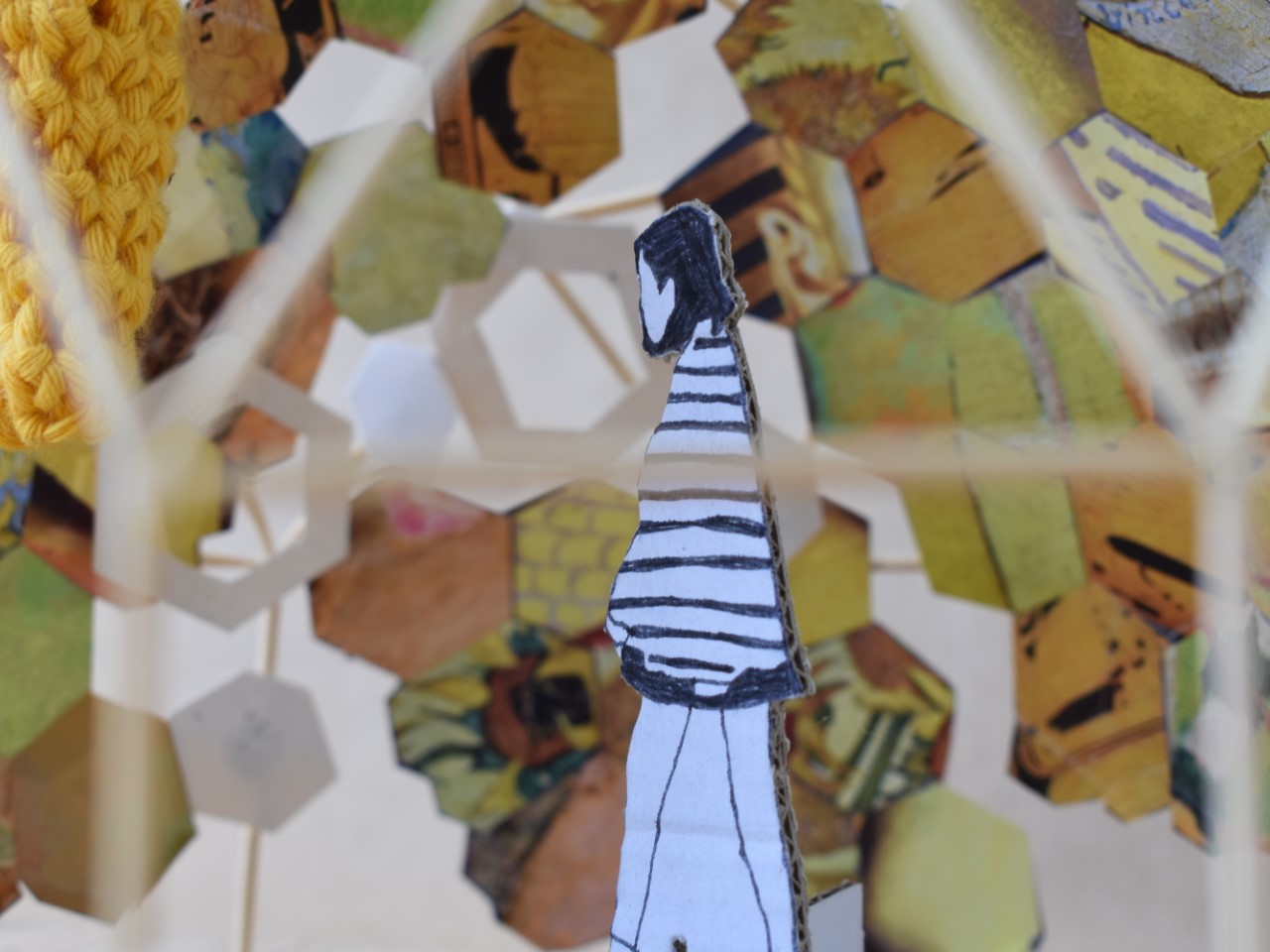 What is The Beehive Project?
I am building a giant Beehive (for humans) as part of my artist residency with SHEDx. The Beehive itself is a 12ft handmade geodesic structure lined with an array of submitted artwork, donated textiles, and things made during free community workshops run by me. The Beehive will then go on tour for 3 months around Tolworth and surrounding boroughs as a public artwork and free activity space to be used by locals in whichever way they imagine.
A beehive is a natural collective, formed by a series of individuals who contribute unique skills and processes to enrich their community as a whole. 'The Beehive', therefore, felt like the perfect metaphor for the project: a public art installation that champions community cohesion and celebrates individuals, offering them a supportive space to exhibit their skill sets and methods of self-expression. The project supports the environment through collaborating with local hives, the recycling of donated clothing and working with artists to provide creative eco-friendly artworks.
The Beehive can be split into two main chunks - The Build and The Tour.
The build of The Beehive aims to involve local communities around Tolworth, Kingston, Surbiton, Long Ditton, and surrounding areas in various ways. To make the internal lining of The Beehive, I am running free inclusive creative workshops with schools, hospitals, care homes and an array of social groups. I will be teaching individuals new skills and encouraging people to work together. An international open call for handmade bees is running until July 10th, inviting creatives to submit their work to be exhibited in the Beehive as it tours. Recycled textiles will be used to make the lining - those donated with a personal memory will feature in the project's book (published by Sampson Low Ltd). The geodesic structure will be built using local materials in collaboration with SHEDx and the design and architecture firm the 121 Collective.
The Beehive installation will tour the local area visiting a variety of public spaces for a minimum of 3 months. The Beehive will be a constantly evolving space full of workshops, performances, film screenings, talks, events and more, highlighting all the creative talent existing in the local area and giving people an accessible platform to playfully experiment with their ideas.
GET INVOLVED!
tHE BUILD
MAY - SEPTEMBER 2019
The tour
SEPTEMBER 2019 ONWARDS
wHAT HAS tHE bEEHIVE BEEN UP TO SO FAR?
support the beehive project
This is a non-profit project that is able to run thanks to incredibly generous grants, donations and the sales of our merchandise. To support the project's growth and continuation (plus the careers of many emergng artists and organizations), please donate below or buy one of our brilliant products!